View all posts
Virginia-based Blue Ridge Bank expands into Charlotte with Middle-Market Banking
05/16/2022
By: Caroline Hudson - Charlotte Business Journal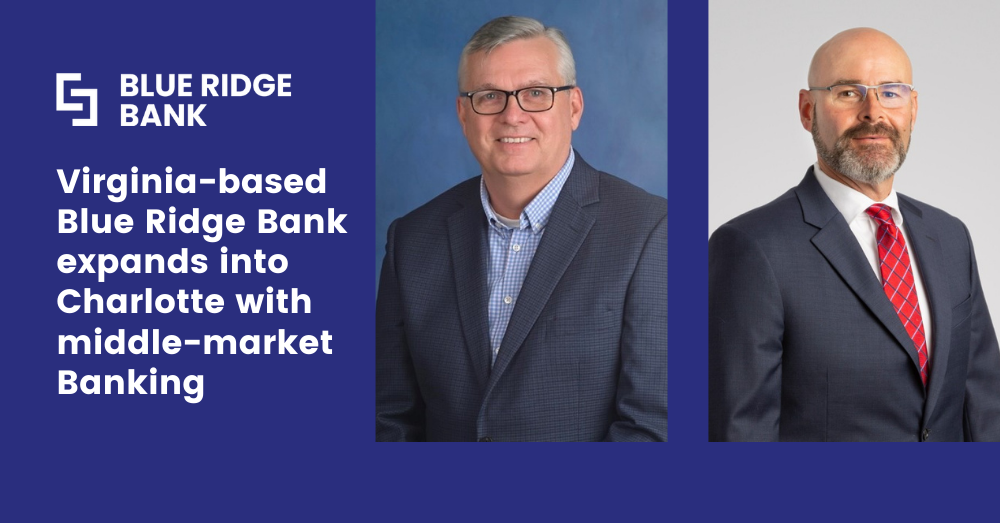 Another out-of-state bank is expanding operations into the Charlotte market, part of its larger growth plan across North Carolina and Virginia.
Virginia-based Blue Ridge Bankshares Inc., with $2.7 billion in assets, is building up its middle-market team. Three months ago, the bank brought on C. Douglass Riddle as managing director of corporate and middle­
market banking. Riddle, who spent decades with Fifth Third Bancorp (NASDAQ: FITB) and Wells Fargo & Co. (NYSE: WFC), is based in the Triangle. He is focusing on seven geographic markets, including Charlotte, the Triangle and the Triad, for expansion. Hampton Roads, Virginia, is another key location.
In Charlotte, Blue Ridge Bank is starting with a loan production office. Robert Wilber, managing director of middle-market banking for the local market, is looking to recruit bankers, credit and risk management experts and support staff. Blue Ridge generally defines the middle market as companies with $15 million to $150 million in annual revenue.
"We are at the very beginning," Riddle said. "We're identifying people, we're actually identifying some space, and the intention is to grow that as a team that covers Charlotte (and) western North Carolina."
Riddle declined to share any hiring targets, but he did say Blue Ridge is looking for the right people with an entrepreneurial spirit. It is looking for a local office in SouthPark.
For him, that opportunity for entrepreneurship was a big driver in his decision to make a change.
"This was an opportunity to measurably and tangibly impact a business as we grow this bank and really be one of the catalysts for that," Riddle said. "I've spent my career working for larger companies, and it's been a great career and I have a lot of respect for the companies where I spent my time and others, but this is the opportunity to really be part of growing a business in a way."
Wilber, who joined a few weeks ago, was at First Horizon Bank before coming on board at Blue Ridge. He has more than 15 years of experience in commercial banking. He has ties to the former SunTrust Bank, now Truist Financial Corp. (NYSE: TFC), and First Citizens Bank. Wilber said via email the opportunity to work with like-minded leaders attracted him to Blue Ridge. He thinks the bank is set up well to compete for bankers and clients.
Blue Ridge has been seeking growth opportunities for a while. In January 2021, it acquired Bay Banks of Virginia Inc., merging the Virginia Commonwealth Bank into its operations. It also announced plans to merge with FVCBankcorp Inc. last summer, although that agreement has since been terminated.
Blue Ridge posted net income from continuing operations of $17.4 million, or 93 cents per diluted share, in the first quarter. That's a big leap compared to net income of $4.2 million, or 28 cents per share, in last year's first quarter - results boosted by higher pre-tax income, lower expenses and fewer merger-related costs. Total assets grew by nearly 2% in the first quarter.
To view the entire article in the Charlotte Business Journal, click here.