View all posts
Blue Ridge Bank Implements Sabbatical Leave Program and Increases Minimum Hourly Pay
02/02/2023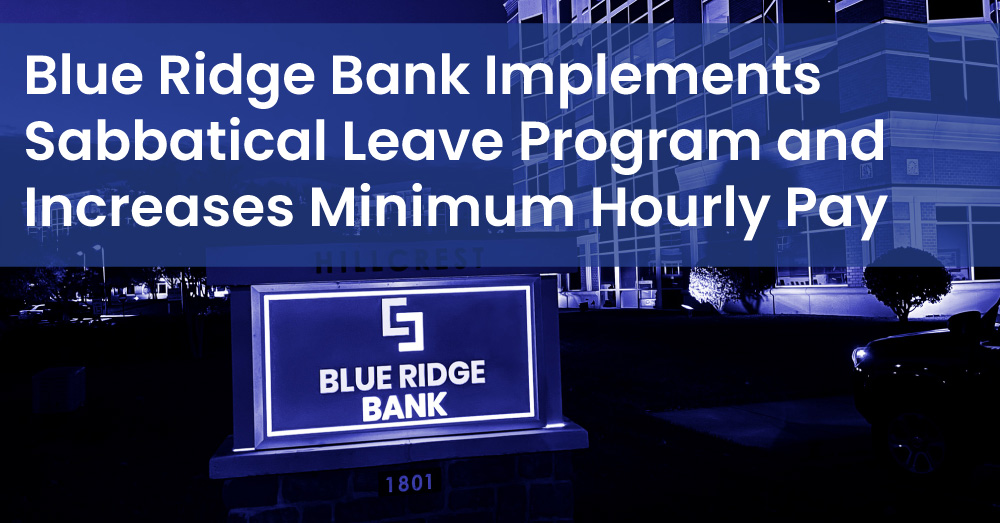 Blue Ridge Bank, the wholly owned subsidiary of Blue Ridge Bankshares, Inc., is pleased to announce the launch of its sabbatical leave program and an increase in its minimum hourly pay to $18.00 per hour.
"We believe in the power of disconnecting and prioritizing time away from work," said Brian K. Plum, Chief Executive Officer of Blue Ridge Bank. "The science around the benefits of disconnecting is irrefutable. Our new paid sabbatical leave program rewards longevity among team members and requires the use of earned time. Employees will be completely disconnected from work resources during sabbatical leave, allowing them to place their full energy, focus, and attention on the things they love."
Plum continued, "Our increase to $18.00 for minimum hourly pay is a continuation of our living wage commitment. We have an obligation to everyone on the team to ensure we provide compensation and benefits necessary to meet daily needs and plan for long-term goals. Our top two Core Values are Act with Integrity and Serve Others, and our commitment to providing a living wage is one way we honor those values as a company.
The new sabbatical leave program begins at the five-year service mark. Blue Ridge Bank employees earn three weeks of sabbatical leave, which is in addition to the normal paid leave time allotment. Three weeks of sabbatical leave are added for each additional five years of service, peaking at twelve weeks of sabbatical leave with twenty years of service. Employees with over twenty years of service maintain twelve weeks of sabbatical leave at each five-year increment.
View the whole press release here.
Join Our Team
We make things happen and push to change what it means to be a bank! We support our communities, help dreams come true, and do our best to enjoy every day. Are you ready to join #teamBRB?