View all posts
Blue Ridge Bank leases branch space to Urban Baby Beginnings in Petersburg
04/19/2023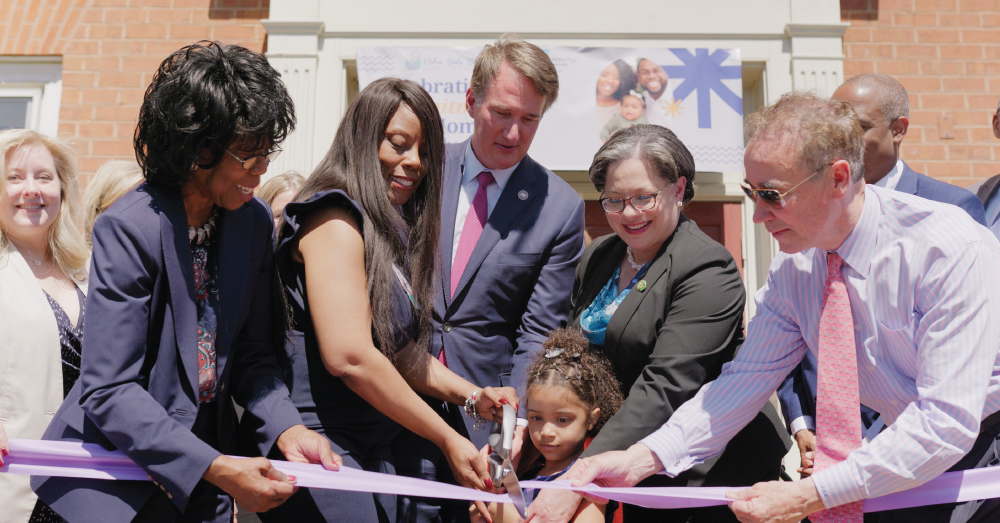 Photo of ribbon cutting, left-to-right: Ms. Phyllis Bradley, Stephanie Spencer, Governor Glenn Youngkin, Congresswoman Jennifer McClellan, Senator Joe Morrissey, and Aria in front.
Blue Ridge Bank, N.A.'s mission includes "…creating customized solutions for the needs of our clients." When combined with our core value of serving others, creative solutions appear.
This story begins with smart networking and ends with a win-win for all parties involved.
Stephanie Spencer, a BSN, RN, LCCE, CLC, and founder of Urban Baby Beginnings, reached out to Danny Presgraves, Facilities Manager at Blue Ridge Bank, inquiring about the unoccupied second-floor space in the Petersburg branch. Spencer sought an area to establish her non-profit that"…provides community support services specifically for pregnant and parenting families."
Jennie Reynolds, President of Anthem HealthKeepers Plus. "Since beginning this grant with Urban Baby Beginnings back in 2022, we are thrilled to see early results with this latest hub opening. This partnership is emblematic of our ongoing commitment to address key social drivers of health and advance health equity so that every pregnant woman and child has an opportunity to be as healthy as possible."
Spencer had made a connection through Amy B. Everett, the Director of Customer Experience for Virginia Gateway Region (VGR), which serves the Tri-Cities area with a mission to foster prosperity through business growth and powerful partnerships. Everett understands the power of making connections. She knew Spencer might be the right client for the open Blue Ridge Bank branch space she toured last fall and recommended contacting Presgraves.
After Presgraves pulled in local real estate agent Steve McDonough to help work out the details for leasing out the 2nd floor, the idea was forged. "This [type of thinking] helps make Petersburg a better place for the people," Steve McDonough.
"This is a great opportunity for the bank. Leasing space in Petersburg is challenging, and we wanted to help this organization. We like to think outside the box, and helping non-profits helps the community. Danny Presgraves, "Tuesday's ribbon-cutting ceremony was impressive. I felt the turn-out was unbelievable."
Additional articles regarding Urban Baby Beginnings' news:
Crowd (approximately 150) watch and listen to Governor Glenn Youngkin speak before touring the new space inside.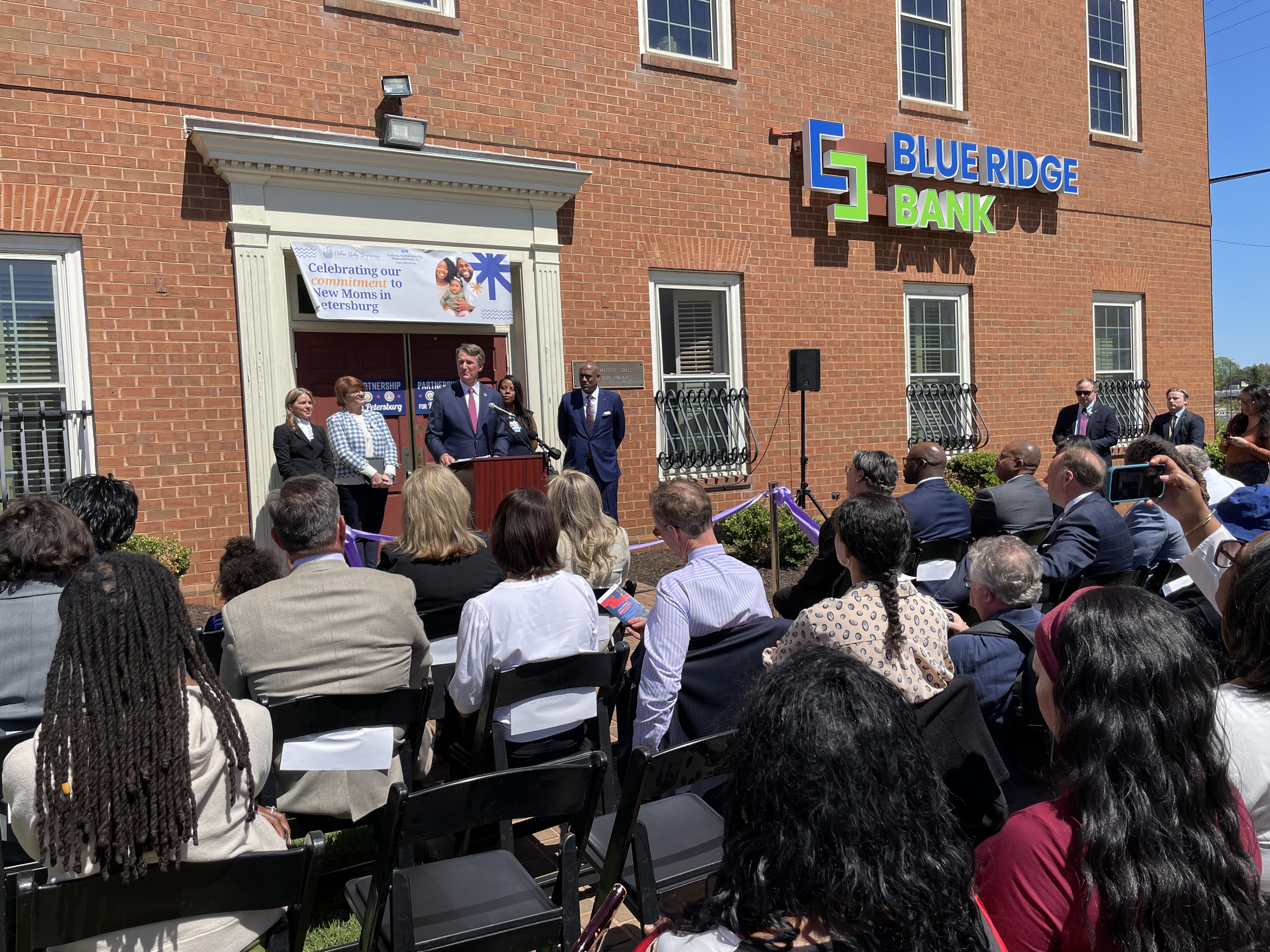 Crowd (approximately 150) watch and listen to Governor Glenn Youngkin speak before touring the new space inside.
Event was via invitation only due to parking and limited use of the space.