View all posts
Miranda Cave - Customer Service Focused
09/09/2020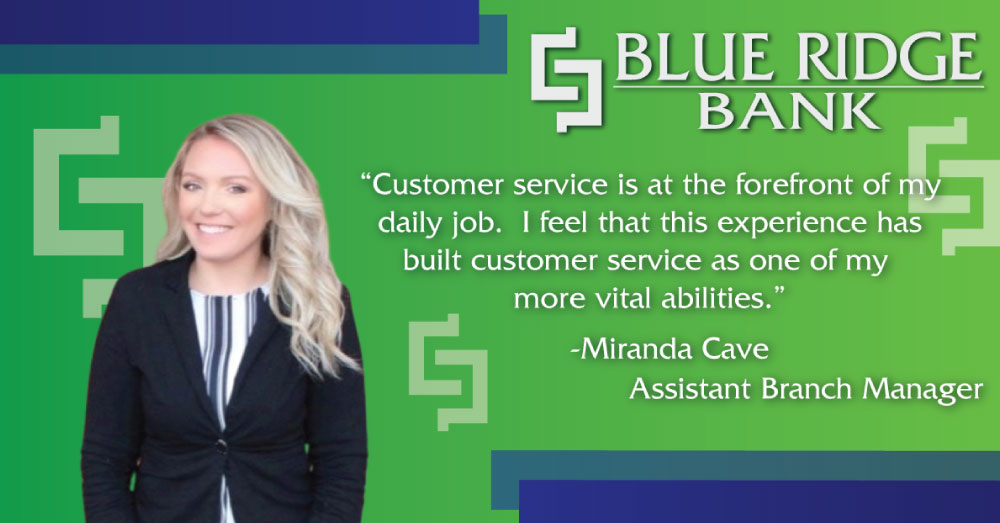 Our employees at BRB are dedicated to providing customized, convenient services with the attention that only a locally owned community bank can provide. We want to introduce you to the hard-working employees that help us stay true to our founding mission "To provide a wide range of financial services with an emphasis on quality, ethics, and superb customer relations."

Meet Miranda Cave from BRB Luray!

1. Before working at Blue Ridge Bank, what was the most unusual or interesting job you've ever had?
I worked at McDonald's while I was in high school. As you can imagine, there was never a dull moment. It was a great introduction to working with the public.

2. What is your current role at BRB?
I am currently the Assistant Branch Manager in Luray. I assist the manager with any and all duties associated with the branch.

3. If you could switch your job with anyone else within Blue Ridge Bank, whose job would you want?
That's a tough question! I don't have an answer. I enjoy my job very much, but I am always looking to learn something new.

4. What have you gained from working at Blue Ridge Bank?
I have gained many skills from working at BRB. Customer service is at the forefront of my daily job. I feel this experience has built customer service as one of my more vital abilities.

5. Where would you like to visit on your dream vacation?
I would love to visit a tropical island where there are white sand and clear water. Tropical drinks included wouldn't hurt either!