View all posts
Spilman Named Valley Region Market President
08/27/2021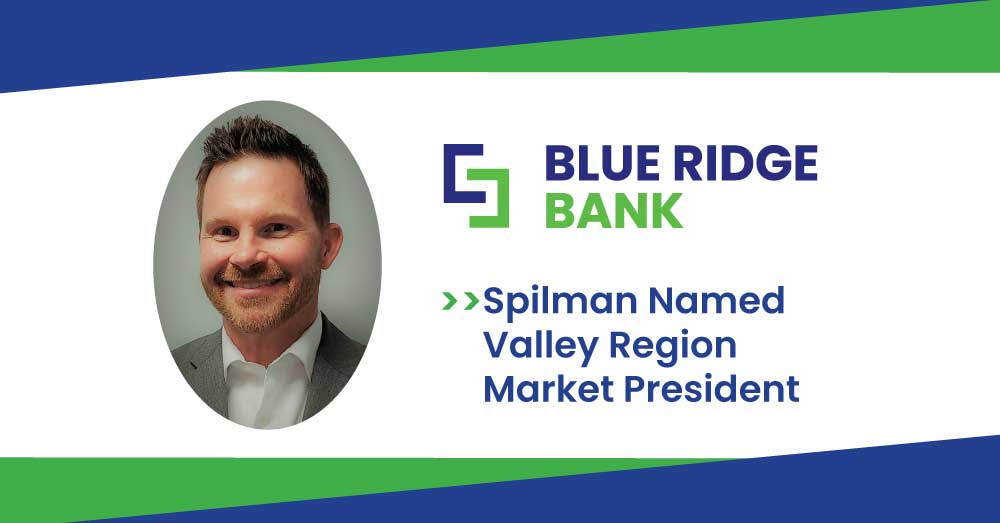 Spilman Named Valley Region Market President

Harrisonburg, Virginia, August 13, 2021 – Jeremy Spilman has been promoted to President, Valley Region, for Blue Ridge Bank. Spilman is responsible for leading the bank's teams in Harrisonburg, Luray, and Shenandoah, as well as building and strengthening the bank's banking relationships and community involvement throughout the area.
Spilman has more than two decades of experience serving others in financial services. He joined Blue Ridge Bank in 2017.
"Jeremy has an amazing work ethic and I've always been impressed with his commitment to his customers," says Brian K. Plum, President and Chief Executive Officer of Blue Ridge Bank. Inc. "He's played a key role our growth and success since he joined the Blue Ridge team. I'm excited to watch him lead our Valley team to newer heights of service to our communities and customers."
"I am proud to be a part of such a dynamic team here at Blue Ridge Bank and look forward to the opportunities ahead," said Spilman. "Blue Ridge's commitment to providing responsive, customer-first service along with great products allows me to serve our customers effectively and perfectly aligns with my commitment to my clients and community."
Spilman received a bachelor's degree from Virginia Tech. He is active in the Harrisonburg Massanutten Rotary Club and served as Assistant Governor for Rotary International and is Treasurer of Valley Associates for Independent Living, Inc. He resides in Rockingham County with his wife Christine and their two children, Alyssa and Brooke. Jeremy enjoys skiing, mountain biking, and basketball.
About Blue Ridge Bank:
Blue Ridge Bank, N.A., is the wholly owned banking subsidiary of Blue Ridge Bankshares, Inc. Through its subsidiaries and affiliates, Blue Ridge Bank provides a wide range of financial services including retail and commercial banking, payroll, insurance, card payments, wholesale and retail mortgage lending, and government-guaranteed lending. The bank provides commercial banking services to customers located throughout Virginia and North Carolina. Visit mybrb.com to learn more.