View all posts
Stallings Named Market President to Triad Region
10/12/2021
By: Michelle Simon, Director of Corporate Communications & PR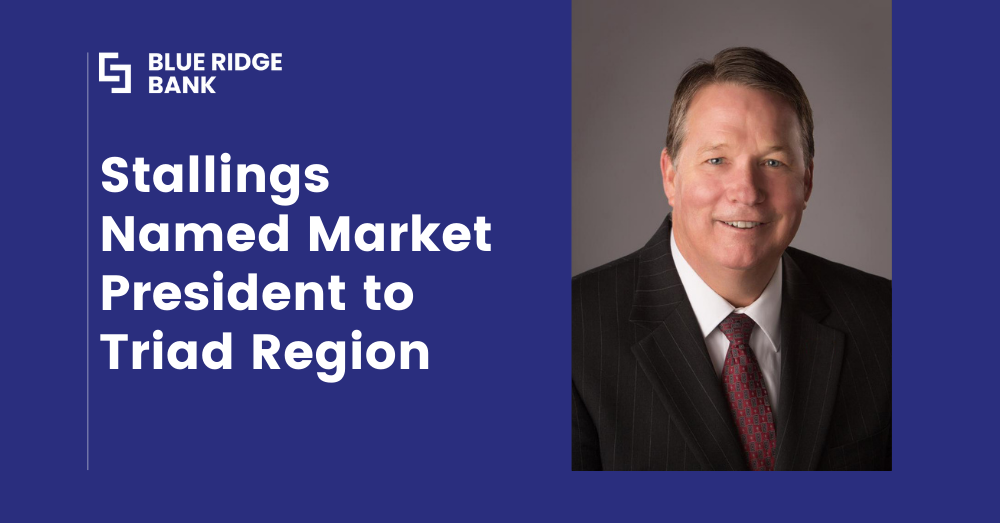 Greensboro, North Carolina, October 12, 2021. Bill Stallings has been promoted to President of the Triad Region for Blue Ridge Bank. Stallings will be leading the bank's efforts to continue expanding its presence and relationships in the Triad.
Stallings has nearly 40 years of experience working in the financial services industry with a diverse background of business, lending, public finance, and commercial credit administration. He joined Blue Ridge Bank in 2020 as a Senior Commercial Lender.
"We are very pleased to announce the promotion of Bill Stallings to Market President of our Triad Region. Bill is the consummate banking professional and his knowledge, network, and passion for clients and our communities will drive continued growth and success for the bank," says Brian K. Plum, Chief Executive Officer of Blue Ridge Bankshares, Inc. (NYSE American: BRBS), the parent company of Blue Ridge Bank.
Bill is a veteran of the United States Coast Guard and a graduate of the University of Louisiana at Monroe. Bill is also graduated from the Graduate School of Banking at Louisiana State University, where he currently serves on the Board of Trustees and as a member of the faculty since 2012. Bill received his CCIM, a professional commercial real estate designation, in 2009. He is a proud parent of three children with two grandchildren. Bill enjoys spending time at the lake with his family and friends during his spare time.
About Blue Ridge Bank:
Blue Ridge Bank, N.A., is the wholly owned banking subsidiary of Blue Ridge Bankshares, Inc. Through its subsidiaries and affiliates, Blue Ridge Bank provides a wide range of financial services including retail and commercial banking, payroll, insurance, card payments, wholesale and retail mortgage lending, and government-guaranteed lending. Visit mybrb.bank to learn more. Blue Ridge Bank was recently named one of America's Best Small Banks by Newsweek. The Bank also received a 5-star rating from Bauer Financial, the nation's leading independent bank rating firm and most recently was named to Piper Sandler's "Class of 2021 Bank and Thrift Sm-All Stars". Piper Sandler recognized Blue Ridge Bankshares, Inc. among the top 35 best performing small capitalization institutions from a list of publicly traded banks and thrifts in the U.S. with market capitalizations less than $2.5 billion.
Media Contact:
Michelle Simon, Director of Corporate Communications & PR, Blue Ridge Bank
[email protected]