View all posts
VBA Bank Day 2023 is Quickly Approaching
02/16/2023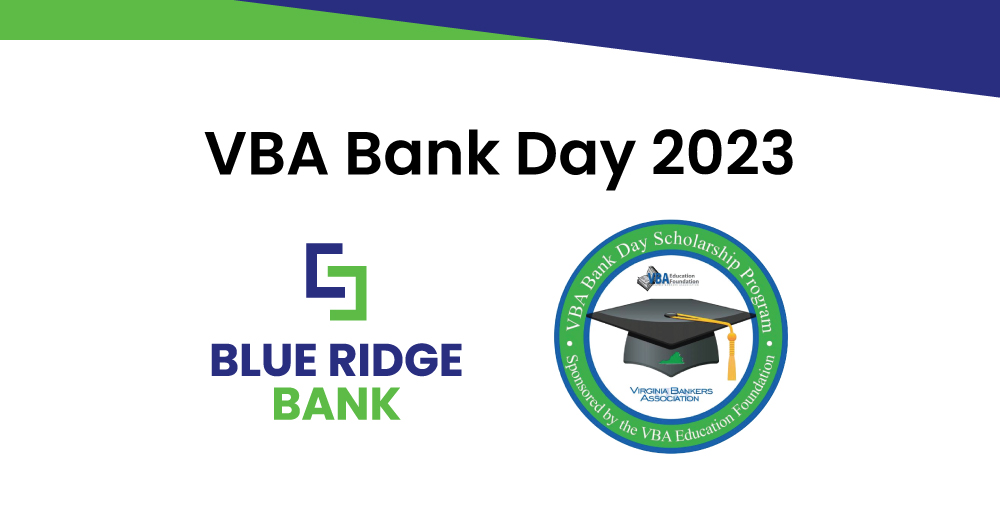 Blue Ridge Bank is excited to partner with the Virginia Bankers Association Education Foundation (VBA) to offer seniors a unique scholarship opportunity in March called Bank Day.
What is Bank Day?
The third Tuesday in March was declared Bank Day by the Virginia General Assembly in 1991. Through this program, high school seniors learn about banking, financial services, career opportunities within the banking industry, and the vital role banks play in their communities. From their experience, the students are required to write essays on their experiences. Thirteen scholarships will be awarded based on the essays accross the state.
Students will have access to a VBA-created Bank Day resource web page over three weeks from March 13-March 31, 2023. This resource page will house relevant information that students will need to research to complete their essays for a chance to win college scholarships. Select BRB locations will host students in person on March 22, 2023 from 9 am to 2 pm. Once students are registered, more information will be provided.
The following BRB branches will be hosting students on March 22, 2023 for VBA Bank Day:
Luray

Culpeper
Chester

Colonial Heights

Suffolk

Kilmarnock

Patterson
Tuckahoe
Louisa

Martinsville

Warsaw

Callao

Hartfield

Whitestone

Montross
How much scholarship money is available?
A total of $26,000 will be awarded to twelve students across the Commonwealth.
Six honorable mention winners, each winning a $1,000 scholarship.
Six regional winners, each winning a $2,500 scholarship.
One of the regional winners will also be named the statewide winner, earning an extra $5,000 scholarship for a total of $7,500 in college scholarships!
How can students participate?
Students must be currently enrolled as seniors in a Virginia high school with cumulative GPAs of 3.0 or higher to participate. Interested students must register online by March 3rd through the VBA using the following link:
In March, students will be contacted directly by the VBA with more information about the program and a link to access the resource webpage.