View all posts
Bankin' with Bobby
08/28/2020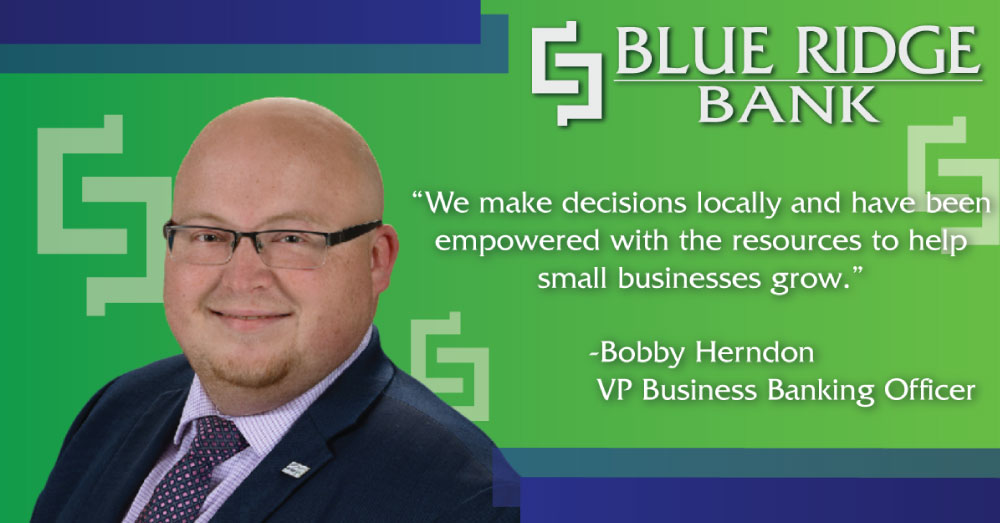 Our employees at BRB are dedicated to providing customized, convenient services with the attention that only a locally owned community bank can provide. We want to introduce you to the hard-working employees that help us stay true to our founding mission "To provide a wide range of financial services with an emphasis on quality, ethics, and superb customer relations."

First up! Bobby Herndon from BRB Winchester.

1. Before working at Blue Ridge Bank, what was the most unusual or interesting job you've ever had?
I had a summer job working with a plumbing and pipefitting company.

2. Tell us a shortlist of your experience, and what is your current role at BRB?
I started as a teller in 2007 and worked my way up to the branch manager. Then I studied and gained my series 6, 7, and 63 and my life, health, and annuities licenses. Running the cash management department for a community bank in Winchester was my most recent job before becoming the VP Business Banking Officer at BRB Winchester.

3. Why BRB? What made you make a move?
I made a move because I wanted to continue to grow in the community where I grew up. I wanted to be able to focus on Winchester and Frederick County and continue to make a difference. With BRB, I know that we make decisions locally, and have been empowered with the resources to help small businesses grow. It's one thing to sponsor an event to get your name on a flyer. It's another thing to fiance an expansion to a local restaurant or help someone realize their dream of opening their first business. That's what made me choose BRB. A company that cares about the communities it represents and a financial institution that has the resources to make our customers' dreams come to fruition.

4. If you could switch your job with anyone else within Blue Ridge Bank, whose job would you want?
I wouldn't switch. I've learned the most in my career by stopping at every position to the top. I wouldn't want it any other way, so I'm where I'm supposed to be.

5. Tell us a fun fact about yourself that might surprise us.
I don't know that it's a fun fact, but I love English Bulldogs. I have a sweet bulldog named Lola.

6. Where would you like to visit on your dream vacation?
My dream vacation would combine a trip to England, France, and Germany. I love history and have a long list of locations I wanted to visit.